Blog
Gifts for gardeners
Date Posted: 27 March 2019
Japeto is the perfect place to purchase gifts for gardeners!
Buying presents for the discerning gardener is often very difficult. Gardeners invariably know what garden tools they like so trying to find a new and unusual present for a gardener is a tough task!
Here at Japeto not only can you purchase unusual garden tools, but the garden tools you purchase are of the highest quality, come complete with their own quality canvas bag, and are presented in a beautiful craft box. Japanese garden tools are not neccersarily known to every gardener and from our experience gardeners are often fascinated to know the differences between Japanese garden tools and more conventional garden tools. In a nut shell they are often lighter to use with wooden handles, sharper with carbon steel blades and more multifunctional i.e. they do more than one thing like the Hori Hori garden trowel knife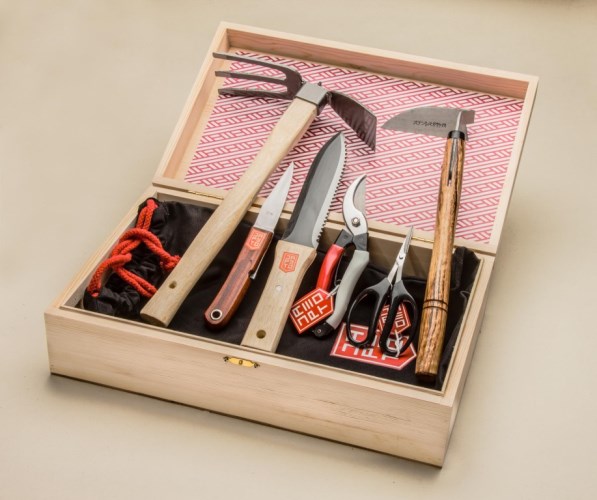 Below we offer some advice on purchasing Japeto Japanese garden tools as gifts for gardeners who might be coming accross Japanese garden tools for the first time.
Start simple
If you are looking for a reasonably low cost gardening gift we would suggest you start with the Hori Hori Knife. Meaning literally 'dig dig' this great multi functional garden tool will very quickly replace the trusty garden trowel in most gardeners tool kits. It can saw, cut and dig and is perfect for weeding and planting bulbs. The hori hori knife comes in its own canvas bag and is then presented in a beautiful craft box. At the time of writing this is available at £25.95 for the deluxe version complete with leather holster or just £19.99 for the standard version.
Of course there are many other amazing Japanese garden tools that you can purchase on the Japeto website and all products barring the very large items come with a canvas bag and craft box.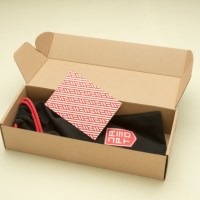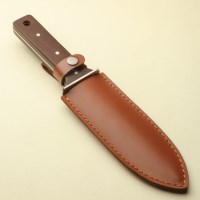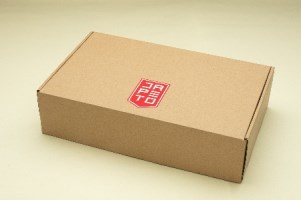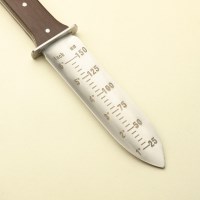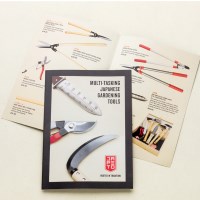 A real taste...
If you are looking at a slightly higher budget around the £40-£50 area then the Japeto Japanese garden hand tool set is a great introduction into Japanese garden tools. The set contains a Japanese sickle, traditional red and white handled Japanese secateurs and a hori hori knife. The 3 tools are beautifully presented in their individual craft bags inside the patterned Japeto craft box meaning you dont even have to wrap your gardeners presents up!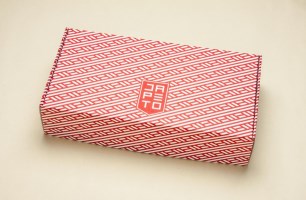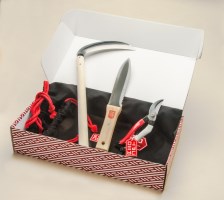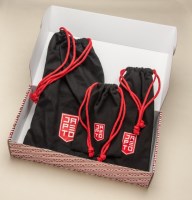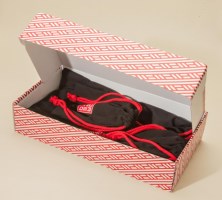 The Japeto Japanese Gardening Tool Gift Set

If you are feeling really generous the perfect present for a gardener is the Japeto Gardening tool gift set
Currently available at £89.99 this great gift set is an ideal Christmas present or birthday present for the avid gardener. It contains 6 typical Japanese garden tools including the Japanese hoe and digging fork, Japanese single edge weeder, Japanese grafting knife, Hori Hori knife, Japanese garden scissors, and Japanese secateurs
Not only does this great set of Japanese garden tools contain 6 amazing quality garden tools it is also beautifully presented in a hand made wooden box which can also be used to store a multitude of items in your shed! As ever, all products are individually packed inside a high quality canvas bag. Gardeners both experienced and inexperienced cannot fail to be impressed with this as a present.